Our camp is recognized as one of the top football camps in the nation.
In 2012, 2013 and 2014 143 players earned 1st Team All State Honors, seven of the past Nine State Championship Teams, Small, Medium, Large Schools, and for 2012-2013-2014 Gatorade Players of the Year.
The camp features about 20 or more top College, NFL, and select High School coaches counselors and Athletic trainers from across the nation. Our staff provides superior football individual skills instruction, team instruction, mentoring, coaching clinics, motivational speakers, housing and meals.
This is the 24th annual camp. Join us June 25-28, 2015
Planning and organization for the 2015 camp is underway – stay tuned for updates!
CHAMPIONS ARE FORGED HERE!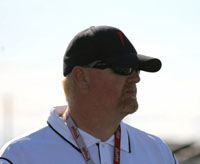 COACH DAVID DEVAUGHN on the AFC difference
When I took over the Eielson program in the spring of 2000, I knew the biggest challenge would be forging that essential bond between a new coach and his players.  One of the first coaching decisions I made was to enroll our team in the All Alaska Football Camp. Today, the All Alaska Camp is a cornerstone of our preseason preparation.  In addition to learning and refining individual skills, the camp also provides one-of-a-kind team-building opportunities including competition with the top football programs statewide.
The camp is also a great opportunity for our upper-classmen to get valuable exposure with the college coaches who attend AFC. There is no other camp in Alaska – or anywhere – that offers anywhere near the benefits we enjoy at AFC.  Bottom line, this camp is our assurance that when October rolls around we are going to be in contention for a State title.
David Devaughn – Head Coach, Eielson Ravens
3 x Conference Coach of the Year
2 x Small School State Championships
11 Conference Championships
11 playoff appearances
2 Small School State runner-ups
COACH DAVIS West Anchorage Eagles: AFC XXIV

"Talent comes and goes, but if you're going to build a good football team, there is no substitute for teamwork.  If being good isn't good enough, you set the bar higher by taking team-building to the next level.  For the West High Eagles, that next level was found at the 2010, 2013 and 2014 All Alaska Football Camps.  We faced more than our share of challenges during the 2010, 2013 and 2014 seasons, but we met each and every challenge as a team.  We came together as a family.  And when the final whistle blew at the end of the season, we gathered at midfield just as we started our season.  As a team.
We'll be kicking off the 2015 season at AFC XXIV.  It works."
Head Coach Tim Davis, West Eagles
2013 Large School State Champions
2014 Large School State Finalists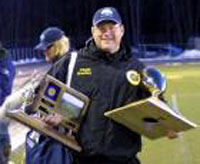 COACH GALEN BRANTLEY on the AFC Advantage
"I've been asked why the Soldotna Stars have attended the All Alaska Camp as a team for over a decade.  The short answer is:  2006, 2007, 2008, 2010, 2012, 2013 and 2014.  Those are the years we won State Championships after starting our season at the All Alaska Football Camp.
We are very proud of those state titles, but AFC provides benefits that go beyond hoisting that trophy at the end of the championship game.  Our players receive outstanding skills and team instruction, and they have an opportunity to learn from and compete with the best football players from all across Alaska.  And to top off the camp's many benefits, our players also gain valuable exposure with top college coaches from around the country who coach at AFC. Many of Alaska's best players go on to earn scholarships and play college football thanks to the All Alaska Football Camp."
Head Coach Galen Brantley, Soldotna Stars
2006, 2007, 2008, 2010, 2012, 2013 and 2014 State Champions