The All Alaska Football Camp (AFC) is recognized as one of the top football camps in the nation.

Over the past five seasons, 269 players attending AFC earned All State Honors. This is a hallmark of AFC. Since 1992, literally thousands of AFC players have gone on to earn All State or All Conference honors. Twelve of the past fifteen State Championship Teams – Small, Medium and Large Schools – attended AFC, and the 2012-2013-2014-2016 Gatorade Players of the Year attended AFC. The camp features 31 top College and select High School coaches from 21 Colleges & Universities, plus counselors and athletic trainers from across the nation. Our staff provides superior football individual skills instruction, team instruction, coaching clinics, motivational speakers, college scholarship mentoring, housing and meals. 
Open to any and all entering 9-12th grades in fall of 2018.
Featuring 31 Coaches and 21 Colleges, including:
NCAA D II
#1 North West Missouri State, 2015-2016 National Champs !
#10 Texas A&M Commerce, 2014-2015-2016 Lone Star Conference Champs !
Colorado Mesa University, 2015-2016 RMAC Champs !
NAIA
#11 Missouri Valley College, NAIA  All-time Winningest Football Program.
#12 Tabor College, KS, 2015-2016 KCAC Champs !
#15 Robert Morris University, IL, 2016 MSFA-West Champs !
From seasoned Seniors to first-year players, CHAMPIONS ARE FORGED HERE!

"Coming from the lower 48, we had no idea there was a football camp happening at this level in Alaska. We're all pretty surprised and impressed."

Carl Cheffers, NFL, Super Bowl LI Referee (also speaking on behalf of NFL line judge Tim Podraza, and SEC umpire Russ Pulley.)

AFC XXVI welcomes Drew Gibbs! Drew will serve as a camp counselor this summer.
For Alaska's high school football players, the All Alaska Camp is unrivaled anywhere in the United States. I graduated from Soldotna HS in 2016. During my high school years, I attended national football camps all over the United States. However, I always came back to the All-AK camp every year. The All-AK Camp was a springboard for my high school career. My time at the All-AK camp was directly responsible for the exposure I needed to fulfil my dream of playing college football.
During my attendance at the All-AK Camp from 2012-2015 I was proud to win the #1 LB 3 years in a row. Then in 2015-2016 camp (before my senior year) I was awarded #1 RB by All-AK Camp.
However, my best moments at All-AK Camp were when I received face-to-face athletic scholarship offers from coaches there that watched me and coached me. After 4 years of attending All-AK Camp, there were 4 or 5 college coaches there that had gotten to know me. After meeting me and working with me there at camp, they saw me as a good fit for their teams.
The All-AK Camp represents hard work + talent + exposure for Alaska's high school football players. It takes hard work + talent + exposure to succeed. The All-AK camp is key to our state's players' gateway to success in college football.
I want to thank the All-Alaska Camp coaches and staff for helping me reach my goal of playing college football. I'm currently attending Division II Northern State University on a football scholarship. I'm honored and thankful to be here with the coaches and players this year too.
Drew Gibbs
Soldotna HS c/o 2016
RB/LB Soldotna Stars 2012-2016 (AK state record 39:0)
U.S. Army Underclassmen Combine 2015
4x Alaska State Football Champion
Alaska 3A Offensive POY
Offensive POY
2x All State RB/LB
Red Shirt Freshman, Northern State University (South Dakota)

"When you play for the Soldotna Stars, you learn early on that preparation is vital to success.  The All Alaska Football Camp is one of the first and best ways our team prepares every season.  We have now won 49 straight games, so I think the formula is working.  We have a lot of teams gunning for us, and the AFC college coaches work with our coaches to help prepare us to meet every challenge.  In addition to outstanding team prep, AFC is the perfect place to hone your individual skills.  I won the Gatorade Player of the year in 2016, and AFC has definitely helped me become the player I am today.  Along with my teammates, I can't wait to get back to camp and kickoff my senior season."
Brenner Furlong
Junior, Soldotna High School
2016 Alaska Gatorade Player of the year.
Alaska USA Today Offensive Player of the Year.
Alaska USA Today First
Team All State Fullback.
1439 Yards Rushing – 15 Touchdowns.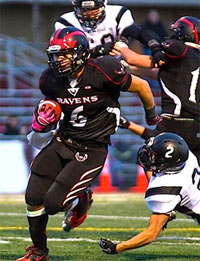 "The All Alaska Football Camp had a major impact on my high school football career.  I attended the camp all four years of my career, and it helped my team become two-time State Champions.  I was also honored to be named the 2014 Gatorade Player of the Year.  AFC offers outstanding individual skill development, and it helped me become the best player I could be.  AFC also offers unique team-building opportunities.  Over the past four years, I was able to learn valuable individual skills from outstanding college coaches, PLUS AFC was an opportunity for our coaches and players to see how the Eielson Ravens stacked up against defending champions and top football talent from around the state.  And last, I did not have to spend thousands of dollars on exposure camps in the Lower 48.  AFC provided me an incredible opportunity to showcase my skills and potential to over 20 college coaches from around the country.  I am currently considering multiple college football scholarship offers, and many of those are from coaches who coached the All Alaska Football Camp."
Anthony Griffith
RB, State Champion Eielson Ravens
2014 Gatorade Player of the Year
3 years as Offensive State POY
2x conference offensive POY
3x first team all state RB
3x first team all state DB
1x  conference utility POY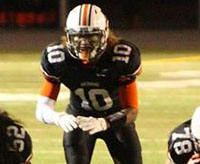 "I was proud to be selected Gatorade Player of the Year for 2013, but that award doesn't compare to how it felt to be part of the State Champion West High Eagles and winning the First National Bowl.  The All Alaska Football Camp was a big part of our preparation.  It was the first time we really bonded and felt like family.  I think it helped prepare us for the injuries and challenges we had to overcome last year. This camp makes you a better player, but the best part is how it teaches you to be a better teammate and a stronger team."
Leroy Elliott
Gatorade POY
All State Wide Receiver
All Conference Wide Receiver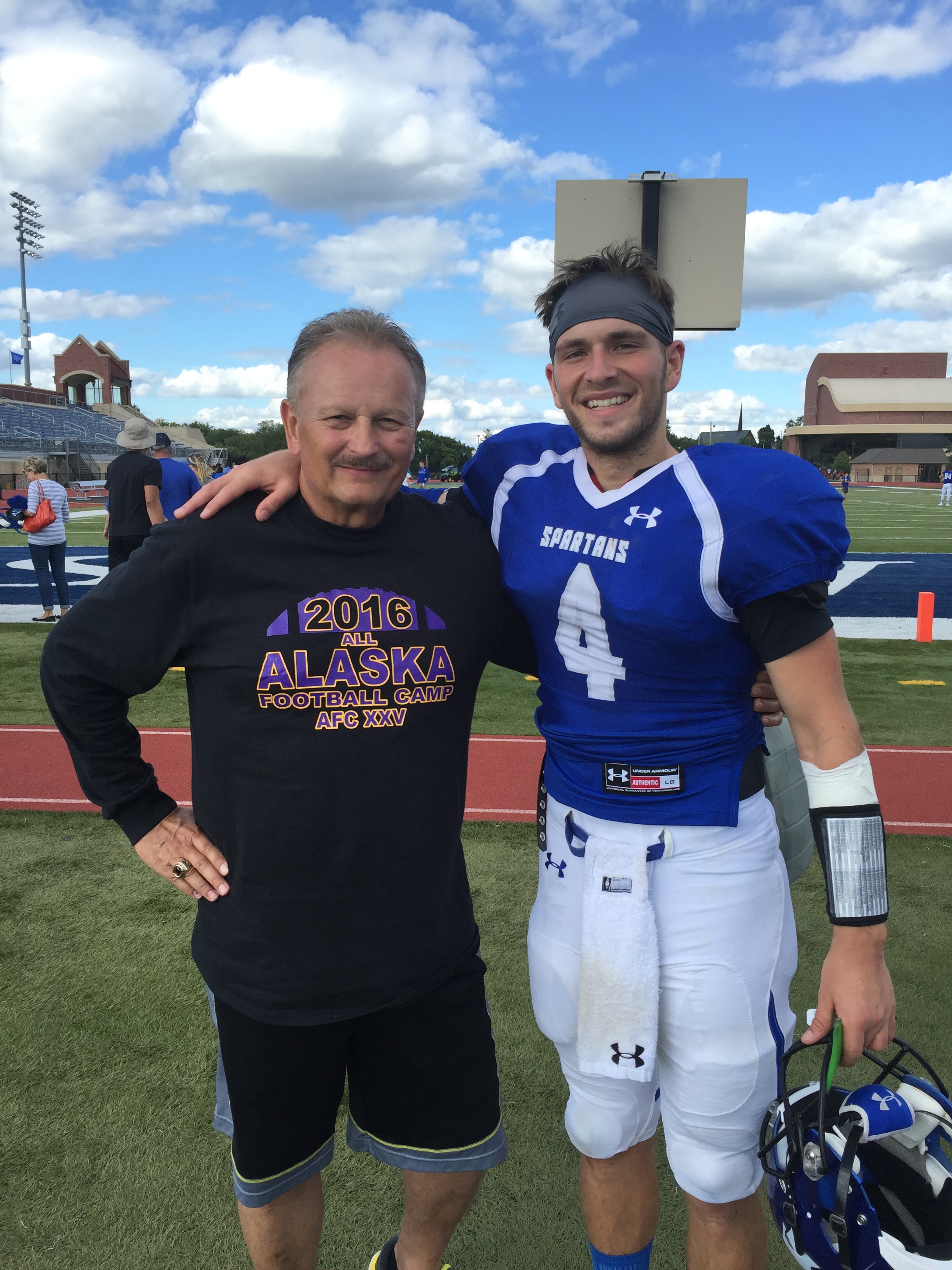 AFC XXVI welcomes Conor Feckley! Conor will serve as a camp counselor this summer.
"During my high school career, I attended more than a dozen football camps. The All Alaska Football Camp was the ONE camp I returned to every year. It's a great place to meet new friends and compete with the best football players from all across Alaska. What other camp offers coaching from 20+ college coaches from around the country? I would recommend AFC to any high school player who is serious about becoming a better football player and a stronger teammate. AFC is everything I love about football and a lot more."
Conor Feckley (Picture with camp founder, Randy Klingenmeyer)
QB, University of Dubuque Spartans
Voted 2016 Team Captain and MVP by teammates
IIAC All Academic, First Team
IIAC All Conference, First Team
IIAC Male Athlete of the Month
3,129 yards, 37 TDs Passing
115 yards, 2 TDs Rushing
Single game school record: 634 yards passing, 8 TD passes
QB, West High Eagles
2012 Gatorade Player of the Year
All-time AK Career Passing Leader (7,099 yds)
3 x First Team All State QB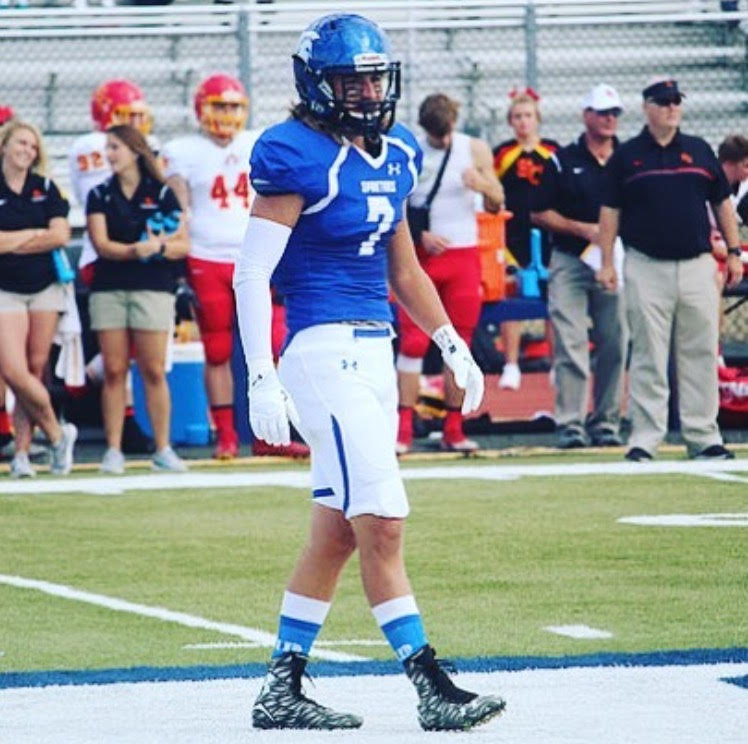 AFC XXVI welcomes Derek Schambow! Derek will serve as a camp counselor this summer.
"This is my first trip up to the Last Frontier and I am very excited to serve as a camp counselor at AFC XXVI, meeting coaches and players from all across Alaska. I grew up in Wisconsin where I attended many football camps in the Midwest during my high school years. What I enjoyed most about those camps were learning all the different techniques and knowledge that the coaches brought to the table. I also learned what it is like to work with other players who share the same passion that I did! Football camps make you work as a team with a group of players that you may not know which is a lot like the college level! I have no regrets from attending those camps because I learned things I still use to this day on the field. I can't wait to see what great talent the state of Alaska has to offer!"
Strong Safety, University of Dubuque
3 Year Starter
High School:
2x 1st team all conference WR
2x 1st team all conference Safety
2x 1st team All Area WR
2x 1st team All Area Safety
2013 All Area Defensive POY
2013 State Runner-Up Wisconsin State Playoffs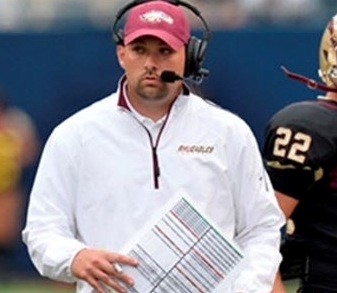 Coming back to Alaska to coach at AFC was part homecoming and part revelation. It was also an opportunity to learn and give back to the sport that has given me so much.
I attended the All Alaska Football Camp in 2000 and 2001 as a QB for Chugiak HS. Looking back on it now, AFC was one of the most fun and memorable experiences of my high school football career. And now, returning to AFC as a college head coach, I have a whole new appreciation and perspective on just how unique and valuable the All Alaska Football Camp is for both high school players and coaches.
Whether you are a coach or a player, AFC is a one-of-a-kind opportunity to learn from more than 20 outstanding college coaches from across America. And whether you are a high school coach from a small community or a coach from a big city, AFC is an opportunity to teach, mentor, and evaluate talented football players from all across the Last Frontier.
Alaska football players face many challenges, but AFC is one clear advantage players here have over their Lower 48 counterparts. When it comes to instruction AND exposure, there is no other camp like AFC anywhere in the nation.
Jared Williamson, Head Coach, Robert Morris University, Chicago, IL